Hagf Minister of Justice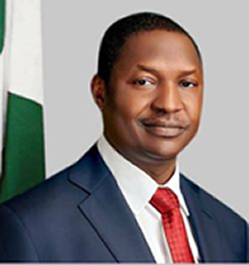 Mr. Abubakar Malami, SAN, the Attorney General of the Federation and Minister of Justice, a thoroughbred legal practitioner and a detribalized Nigerian, was born into the respectable family of Khadi Malami on April 17, 1967 in Birnin-Kebbi, the capital of Kebbi State in the North – West geopolitical zone. He was sworn into office by President Muhammadu Buhari, GCFR as the Attorney General of the Federation and Minister of Justice on November 15, 2015.
EDUCATION
Mr. Malami had his primary school education at the Nassarawa Primary School, Birnin Kebbi, Kebbi State, and his secondary school education at the College of Arts and Arabic Studies, Sokoto. He proceeded to the prestigious Usmanu Dan Fodio University, Sokoto, Sokoto State in 1991 where he obtained his Bachelor of Law Degree with honours, following which he was called to the Nigerian Bar in 1992 having satisfactorily passed his Bar Examinations at the Nigerian Law School, Lagos.
His unflinching quest and thirst for knowledge coupled with his preparedness for public governance and affairs prompted him to pursue a Master's Degree in Public Administration at the University of Maiduguri where he also came out in flying colours.
LEGAL CARRER AND ELEVATION AS SENIOR ADVOCATE OF NIGERIA
---
Upon his Call to the Nigerian Bar, Mr. Abubakar Malami did not waste any time in acquainting himself with the profession as was evidenced in the manners in which he was always engrossed in legal research with a view to rendering bespoke legal services to his clients, and other poor, needy and indigent Nigerians.
Prior to his appointment as Attorney General of the Federation and Minister of Justice, Mr. Abubakar Malami was a highly sought after and a go – to – lawyer due to his erudition, intellectual acumen, tact, dynamism, deep legal experience, advocacy and mastery of law, all of which he had demonstrated while handling diverse complex and complicated civil, criminal and commercial litigations.
He is an independent-minded, strong – willed and honest legal practitioner with decades of impressive track records in legal practice.
Due to his professionalism, sound knowledge of law, commitment to duty, good character, dedication and contribution to the profession, Mr. Abubakar Malami was conferred with the highly esteemed and coveted rank of the Senior Advocate of Nigeria (SAN) exactly sixteen years after his call to the Nigerian Bar.
NOTABLE ACHIEVEMENTS AS ATTORNEY GENERAL OF THE FEDERATION MINISTER OF JUSTICE
---
Mr. Abubakar Malami dedicated himself to the recovery of public stolen assets stashed in offshore jurisdictions by convening strategic and result-yielding bilateral and multilateral meetings and negotiations with different countries which nationalistic efforts culminated in the reparation/return of more than five hundred million United States Dollars in cash to the Federal Government of Nigeria.
His other positive efforts have also begun to yield positive results as Nigeria is in advanced stages of recovering about eight hundred million United States Dollars from Ireland, United States, Island of Jersey and other jurisdictions across the world.
Other notable achievements include:
Drafting of Presidential Executive Order Nos. 6 and 8 on the Preservation of Assets Connected with Corruption and Voluntary Offshore Assets Regularization Scheme (VOARS) respectively. These instruments uniquely revolutionized the War against corruption in Nigeria.
Establishment of a Virtual Automated Case Management System to integrate Prosecution Data with the existing Prison Information Management System by incorporating an Integrated Biometrics Prisoners Information Technology to fast track Prison Decongestion in Nigeria;
Effective decongestion of Nigeria Prisons through the membership of the Presidential Committee on Prisons Reform and Decongestion headed by the Honourable Chief Judge of the FCT High Court. The Committee visited and appraised thirty-two (32) prisons in fourteen (14) States of the Federation during which a total number of Three Thousand, Seven Hundred and Forty (3740) Prisoners were released;
Design of Broad Policy Framework inter alia for improving the Judicial Process and Access to Justice such as:

assessment of criminal cases that were being prosecuted by lay police Prosecutors before the enactment of the Administration of Criminal Justice Act, 2015;
establishment of Justice Sector Reform Committees in about twenty-six States of the Federation, and
provision of Sentencing Guidelines for Judicial Officers;

Facilitation of International and National Cooperation in the Recovery of Stolen Assets; Open Government Partnership Initiatives, Electoral and Anti-Corruption Law/Policy Reforms. The Anti-Corruption Strategy Framework revolves around five pillars as follows: (a) prevention of corruption, (b) public enlightenment, (c) campaign for ethical reorientation, (d) enforcements and sanctions and (e) recovery of proceeds of corruption, and it is inter alia designed to identify and close existing gaps in the anti-corruption initiatives currently in place in Nigeria, and emphasize the institutionalization of result-based systems and structures as well as appropriate incentives for increasing and sustaining citizens' anti-corruption crusade;
Ensuring the effective implementation of preventive anti-corruption policies such as the Treasury Single Account (TSA), the Bank Verification Number (BVN), unprecedented implementation of the Code of Conduct Legislations and the Integrated Payroll and Personnel Information System (IPPIS);
Coordinating implementation of the Asset Recovery Campaign of the Federal Government of Nigeria, by working with anti-corruption agencies, law enforcement and security agencies in the recovery of public funds stolen domestically and those transferred offshore;
Recovery of over $73 Million being part of the proceeds from the sale of OPL 245 by Malabu Oil and Gas Company to ENI/SHELL;
Actual recoveries by the Asset Recovery and Management Unit of the Office of the Attorney-General of the Federation totaling N 59,163,029,949.46 (Fifty-Nine Billion, One Hundred and Sixty-three Million, Twenty-Nine Thousand, Nine Hundred and Forty-Nine Naira, Forty-Six Kobo) and $385,495,900.00 (Three Hundred and EightyFive Million, Four Hundred and Ninety-Five Thousand, Nine Hundred Dollars) locally;
Facilitation of the signing of several Bilateral Agreements aimed at aiding quick recovery of stolen public funds stashed in various offshore jurisdictions;
Generation of Executive Bills and provision of legal advice to Mr. President on Bills presented for Assent by the National Assembly. The Federal Ministry of Justice headed by Mr. Malami inaugurated a Law Review Team to facilitate the review of some existing Laws which led to the proposition of these Bills: • Anti-Terrorism Prevention and Prohibition Bill 2017; • The Money Laundering Prevention and Prohibition Bill 2017; • Nigerian Financial Intelligence Unit Bill 2017; • Proceeds of Crime Bill 2017; • Public Interest Disclosure and Witness Protection Bill, 2017 and • Mutual Legal Assistance in Criminal Matters Bill, 2017.
Prevention of the expulsion of Nigeria from the EGMONT Group; and
Preparation and/or review of Court Processes and representing the Federal Republic of Nigeria in Litigation, and drafting of Regulations pursuant to relevant Statutes.
VERSATILITY PERSONALITY
A man of many parts, Mr. Malami once had a stint as a Teacher, and later as a Magistrate in the Kebbi State Judiciary. Due to his in – depth legal skills, critical thinking, emotional intelligence and thoroughness, he had acted and/or served as a legal strategist to a number of political parties in Nigeria especially the defunct Congress for Progressive Change (CPC) which political party he diligently served as National Legal Adviser.
Following the decision of like minds to merge Action Congress of Nigeria (ACN), All Nigeria's Peoples Party and Congress for Progress Change, Mr. Malami played an active role in the activities and events leading to the conception, and eventual formation of the All Progressives Congress (APC) in 2013 during which he served in several Committees and served as a Resource Person to the Manifesto Drafting Sub -Committee of Inter Joint Party Merger Committees of the CPC, ACN and ANPP.
GOVERNORSHIP RACE AND MINISTERIAL APPOINTMENT
In 2014, Mr. Abubakar Malami contested for the Governorship ticket of the All Progressives Congress (APC) in Kebbi State but he later stepped-down from the race in the overall interest of his Party and the State. However, in recognition of his nationalism, patriotism and positive disposition to public service and legal erudition, President Muhammadu Buhari GCFR appointed him as the Attorney General of the Federation and Minister of Justice on November 11, 2015 at just 48 years old and was then the youngest member the Cabinet making him a member of Nigeria's exclusive club of legal practitioners to become the Attorney-General of the Federation and Minister of Justice in Nigeria. He was the 23rd Attorney General of the Federation and Minister for Justice.
DRIVER OF PRESIDENT BUHARI'S ANTI – CORRUPTION POLICY
In his capacity as the Chief Law Officer and Legal Adviser to the Federal Government of Nigeria, Mr. Malami passionately, patriotically and successfully coordinated the anti – corruption programmes of the Federal Government ably led by President Muhammadu Buhari, GCFR – an unrepentant anti – corruption champion in Africa. Apart from giving overall direction to the entire anticorruption programme of the Federal Government, Mr. Malami played a pivotal role in the recovery of stolen public funds hidden locally, and in offshore jurisdictions.
POSITIONS OF POLITICAL RESPONSIBILITIES PREVIOUSLY HELD
National Legal Adviser, Congress for Progressive Change (CPC)
Chairman, Legal Team of CPC Presidential Campaign Organization, 2011
Chairman, Legal Team of CPC Presidential Campaign Organisation,2011
Member, PDP Legal Team, Election Petition,2003
Member, Kano State Local Government Election Petition Tribunal,2004
Member, National Convention and Congress Committee, 2013
Member, APC Electoral Committee for Anambra State Gubernatorial Election 2013
Member, Kebbi State Committee on Federal Government's National Conference, 2013
Chairman, APC Kano State Congress Appeals Committee,2014
Member, APC Constitution Sub – committee,2014
In his private life, Mr. Abubakar Malami is devoted to service to God and humanity